All important information about Spain
Success in the international enterprising is more than only you and your customers. Each country has its own rules and restrictions, including Spain. Do you want to get to know more about the business facts of Spain you are dealing with? Or do you want to get comfortable with the different commercial practices, cultures, custom rules and economy?

Get to know the country of Paella and Gaudi.
Shipping to Spain
Spain, located on the Iberian Peninsula of Europe, has 46.6 million (2017) inhabitants and has an area of ​​505.992 km². Besides the Iberian Peninsula, the Balearic Islands in the Mediterranean, the Canary Islands in the Atlantic Ocean and the Spanish exclaves in North Africa also belong to the country. Spain has four official regional languages: Catalan, Basque, Galician and Araneese.
Since the beginning of the sixties, Spain is known as a holiday destination but also as an important part of the economy. It is an important agricultural product within Europe. After all, we all know the country because of their delicious citrus fruits, olives and olive oil, nuts and grapes?
The country is one of the most affected countries by the economic crisis. Unemployment is the highest in the EU (2017) except for Greece. This is mainly due to the collapse of the Spanish housing market. It is expected that Spain will need years to get out of the economic crisis, which is longer than most other member states of the European Union.
Spain is the 16 largest export economy in the world. The top export products of Spain are cars ($ 31.8 billion), refined petroleum ($ 13.4 billion), packaged pharmaceuticals ($ 9.8 billion), auto parts ($ 9.8 billion) and trucks ($ 6.22 billion). The top export destinations in Spain are France ($ 41.7 billion), Germany ($ 31.7 billion), Portugal ($ 25.2 billion), the United Kingdom ($ 22 billion) and Italy ($ 21.7 billion).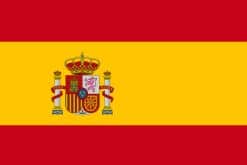 If you know that our experience starts in 1991 and that we've got an extensive local network, you know that DHL Express is your ideal partner to build your business with in this enormous country. It's logical that your important packages and documents can be shipped very easily to cities like Madrid, Barcelona and Valencia.