All information about Brazil
Success in the international enterprising is more than only you and your customers. Each country has its own rules and restrictions, including Brazil. Do you want to get to know more about the business facts of Brazil you are dealing with? Or do you want to get comfortable with the different commercial practices, cultures, custom rules and economy?

Get to know Brazil here.
Shipping to Brazil
Enterprises are interested to expand their business to Brazil and the whole continent because of several reasons. First of all, the country has the biggest economy of South-America. A second reason is that they're hosting a lot of important events. In 2016 they hosted the Olympic Games. Tourism is one of the most important industries, yearly millions of visitors celebrate their vacations in Brazil.
The most important export products are cars, airlines, textile and coffee. A lot of people are working in service-related branches or in the manufacturing industry.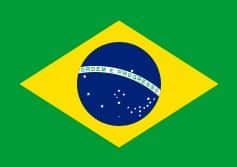 With our years of experience and our extended local network, DHL Express is your ideal partner to build your business with in this upcoming economy. Do you want your important packages and documents safely and easily delivered to a destination? DHL can help with that by delivering to cities like Rio De Janeiro, Sao Paulo, Bello Horizonte and Viracopos.