Vice Prime Minister and Minister of Finance, Alexander De Croo, and Brussels Airport CEO, Arnaud Feist, visited DHL Express on March 21 honoring them as the first company to receive a BE-GATE certification from Customs.
Customs developed the BE-GATE certification as a response to the worldwide increase in trade via e-commerce, which requires fast deliveries and therefore fast releases of the goods by customs.
BE-GATE …
Offers a secure connection between the economic e-commerce operator and customs and is especially created for processing  large amounts of data.
Enables more efficient customs controls based on risk analysis.
Provides optimized communication with a maximum transaction speeds as a result.
Anticipates future legislative changes.
An average of 250 000 parcels circulate via the airport in Zaventem daily. At peak periods such as Black Friday, Christmas … etc this amount can add up to 350 000 shipments per day. BE-GATE allows to quickly process these declarations at customs level.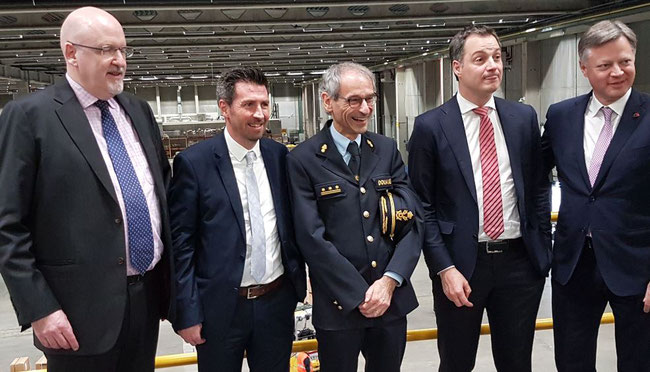 "BE- GATE is a perfect example of how the government is digitizing and innovating for the comfort of the citizen and convenience of companies.  Every day more people shop online. With a digital solution such as BE-GATE, customs contributes to the fast delivery of parcels," said Vice Prime Minister and Minister of Finance, Alexander De Croo.  
"We're very honored that DHL Express  can join this new project as the first logistics company in Belgium. BE-GATE is primarily the result of our good cooperation with customs. With this new system, we can continue to offer our customers our well known fast and high-quality service, also in accordance with the new, stricter European customs legislation. DHL is a company that's constantly committed to innovation, and this cooperation with customs, helps us pursuing innovation and optimization of our systems", says Gerrit De Sterck, Customs Affairs Manager at DHL.  
However, BE-GATE cannot be applied to excise goods, goods subject to permits, restrictions and control measures.