All information about Russia
Success in the international enterprising is more than only you and your customers. Each country has its own rules and restrictions, including Russia. Do you want to get to know more about the business facts of Russia you are dealing with? Or do you want to get comfortable with the different commercial practices, cultures, custom rules and economy?

Get to know Russia.
Shipping to Russia
Russia is officially called the Russian Federation. It is a country that is geographically partly in Europe and partly in Asia. However, from a political perspective it is European because the most important parts of it are in the European part and over 70% of the population lives here. Moscow is the largest city, capital and economic heart of Russia. The government is based in Moscow. The currency of Russia is the Russian Ruble (₽).
From 1917 to 1991 the country was the Russian Soviet Socialist Federal Soviet Republic (RSFSR) at the heart of the Soviet Union. In diplomatic affairs Russia is seen as the successor state of the Soviet Union.
If we'd compare Russia with other countries in terms of population, it will be 9th. The country does have fourteen neighboring countries. We list them here for you: Norway, Finland, Estonia, Latvia, Lithuania, Poland, Belarus, Ukraine, Georgia, Azerbaijan, Kazakhstan, China, Mongolia and North Korea.
Russia's main export products are petroleum, natural gas, coal, electricity, ores, timber and timber products. Russia's main import products are mainly food and live animals. About 32% of Russia's surface can be used for agriculture, the rest is polluted, extinct or permanently frozen.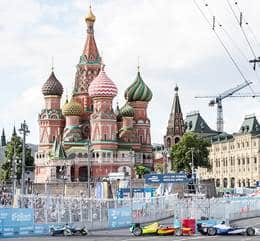 If you know that our experience starts in 1984 and that we've got an extensive local network, you know that DHL Express is your ideal partner to build your business with in this enormous country. It's logical that your important packages and documents can be shipped very easily to cities like Moscow, Saint-Petersburg and Novosibirsk.