The 22nd of February 2018, a new milestone in the history of DHL Express, this is how we call the opening of our new DHL HUB in Brussels. Proud CEO Ken Allen, does not hide his happiness but actually shares it with the whole world by singing a real DHL theme-song.
#DHLHUBGRANDOPENING
An opening we can be proud of for years. With the hashtag #DHLHUBGRANDOPENING we release our big news to the world. And it was big, bigger, biggest.
"Ain't no mountain high enough" covered by big chief Ken Allen, is enjoyed by press, employees and clients. After the press conference guided by 4 important figures within DHL Express and the CEO of Brussels Airport, the party can begin. During a talkshow, Cynthia Reeckmans guided some important partners of DHL Express, RSCA Anderlecht and Delvaux and interviewed them to testify about their DHL-experiences.
And then the big moment arrives, the hub opening of the hub. Dancers in yellow and red costumes, entertain our 200 guests with a choreography on What's the Pressure while the cloths raise and the hub is shown for the first time to our customers. Smiling faces and a successful event, is there anything more in life?
The capacity of the DHL HUB
The ultramodern HUB is a rolemodel of the most technological innovations on logistics. It's quadrupling the capacity of DHL Express Brussels with an amount of 42.000 packages an hour!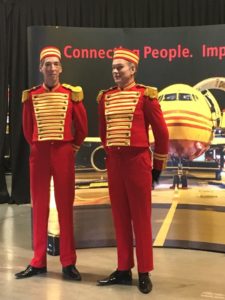 The DHL Hub is one of the 5 biggest DHL hubs in the world and has a function as an international hub ànd a transition hub. As a transition hub it answers the capacity shortage of the European distribution centers, it bolsters the growth of e-commerce in Belgium and it helps to realize Belgian KMO's their enormous export potential. Starting from Brussels, the packages can be send to Europe, America, the middle-East and Africa. This hub is an important shackle in the European and Global network of DHL express.
Employer of choice
Against all expectations, the DHL HUB has 1.200 employees at this moment. A number we hoped we would reach in 2020. Herewith, we keep hammering on the safety of our employees, the most important shackle in our strategy. Ideal working conditions are a must in DHL Express in terms of safety and ergonomics. Today we can pronounce to you that we are answering all the TAPA'A' safety standards.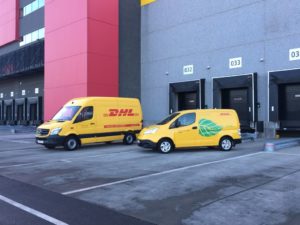 And eventually all this happened keeping an eye at the environment in the cadre of our Go Green policy. The DHL hub reduces our ecological footprint by 768 ton CO² each year thanks to efficient sorting techniques and an improved isolation. Two green cars were displayed at the entrance of the event. You can recognize them by the green leave they are carrying with them.
In need of more information about DHL Express in general? Go to www.dhlexpress.be or www.dpdhl.com